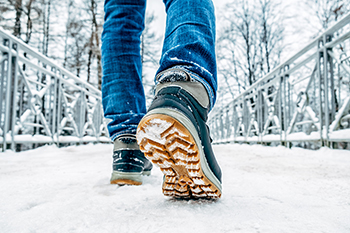 As the temperature drops and winter approaches, it is time to give your feet some extra care and attention to ensure they remain healthy and comfortable during the chilly months. Cold weather can be harsh on your feet, often leading to issues consisting of dryness, cracking, and even frostbite if not adequately protected. To prepare your feet for winter, start by keeping them clean and well moisturized. Invest in a good quality foot cream, and apply it daily to prevent dryness and cracking. Wear warm, moisture wicking socks to keep your feet cozy and dry, and opt for insulated, waterproof boots when braving the winter elements. Trim your toenails straight across to prevent ingrown toenails. Additionally, it is beneficial to stay hydrated and good circulation can be maintained by staying active. By following these simple steps, you can ensure your feet stay happy and healthy throughout the winter season. If you would like more information about winter foot care, it is suggested that you confer with a chiropodist who can provide you with the knowledge you are seeking.
The winter months can bring about new or worsening foot and ankle problems. If you're suffering from foot or ankle pain, please consult with Emily Yu, B.Sc from Uptown Foot Care Clinic. Our specialist can help you maintain the health of your lower limbs and your mobility. 
Winter Foot Problems
Cracked heels - Dry, cracked skin on the heels of the feet that is associated with cold, dry weather

Athlete's foot - A fungal infection on the skin of the feet

Blisters - Fluid-filled bubbles of skin that usually form in response to friction 

Fractures - Broken bones in the feet or ankles 

Metatarsalgia - General foot pain

Chilblains - Spasming of the small blood vessels in the toes in response to exposure to cold weather 

Raynaud's disease - Numbness, pain, and color changes in the toes due to cold weather 
Prevention
Wear warm socks and shoes

Avoid prolonged exposure to the cold

Moisturize the heels regularly

Keep your feet clean and dry 

Walk carefully in areas that may be icy 

Wear non-slip shoes 
If you have any questions, please feel free to contact our office located in . We offer the newest diagnostic and treatment technologies for all your foot care needs.
Read more about Winter